Many so-called tree cutting companies are not what they seem. Most — 95% — pay their employees "under the table", in cash. Many employ illegal immigrants, forgo proper training, don't carry liability insurance and don't pay taxes, don't abide by the law, play by the rules or pay taxes.. What's more, they know nothing about arboriculture. They cut, rather than prune because the truth is, they don't really know what they're doing. They're main concerning is making a buck, and tree cutting seems as good as any other way to do that.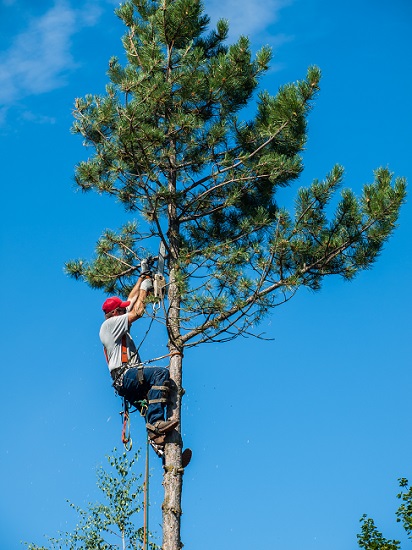 The problem is, they're harming trees with their crude "broccoli cuts", devaluing properties, and if they get hurt and aren't carrying insurance — you guessed it! You'll be paying their medical bills or worse, and opening yourself up to a lawsuit.
So, what makes Advanced Tree & Shrub Care different? We play by the rules, for one thing. Plus, we're trained, educated and experienced arborists. That means that we know what's good for your trees. We know how trees should be pruned and cared for. In other words, we do the job correctly, effeciently and safely.
We're not only degreed/ certified arborists, but we utilize the latest safety practices in the industry, we are trained , have the proper tools, and we're fully insured. That means if something goes wrong and one of our team is injured, you're not liable.
We can assess the health of your trees, prune and fell trees, and most importantly save sick trees. We've got the credentials to back up our claims, too. Our certifications include
International Society of Arboriculture (ISA) member
ISA Certified Arborist
ISA Board Certified Master Arborist
Registered American Society of Consulting Arborists (ASCA)
Tree Care Industry Association (TCIA) member
Texas Dept. of Agriculture Certified Applicator
Oak Wilt Certified Arborists
Certified Horticulturist
Your trees are a valuable part of your home or business landscape. Don't trust them to some "tree guy" who knows next to nothing about them. Trust them to the professional arborists at Advanced Tree & Shrub Care, serving Dallas, Collin and Rockwall Counties. Contact us today for a consultation.
---
Categories:News
---